Clea DuVall, director and co-writer of Happiest Season (2020), has been given the green light to transform Tegan and Sara's memoir, High School (2019), into a series streamed on IMDb TV. Twins Tegan and Sara have been an important and enduring fixture in lesbian music and culture since the turn of the 21st century. Clea DuVall has also been at the centre of lesbian culture and arts, especially since she starred alongside Natasha Lyonne in the lesbian cult-classic movie, But I'm a Cheerleader (1999).
The Book
High School, which is written in chapters that alternate each of their perspectives, was written after the twins "found all this footage and all these photos and wrote a book, and [pieced] it all together to talk about something that every single one of us will relate to: being an adolescent and feeling hormonal and sad and depressed and freaked out and unsure," says Tegan for GQ. According to Google Books:
"High School is the revelatory and unique coming-of-age story of Sara and Tegan Quin, identical twins from Calgary, Alberta, who grew up at the height of grunge and rave culture in the nineties, well before they became the celebrated musicians and global LGBTQ icons we know today. While grappling with their identity and sexuality, often alone, they also faced academic meltdown, their parents' divorce, and the looming pressure of what might come after high school. Written in alternating chapters from both Tegan's and Sara's points of view, the book is a raw account of the drugs, alcohol, love, music, and friendship they explored in their formative years.

A transcendent story of first loves and first songs, High School captures the tangle of discordant and parallel memories of two sisters who grew up in distinct ways even as they lived just down the hall from each another. This is the origin story of Tegan and Sara."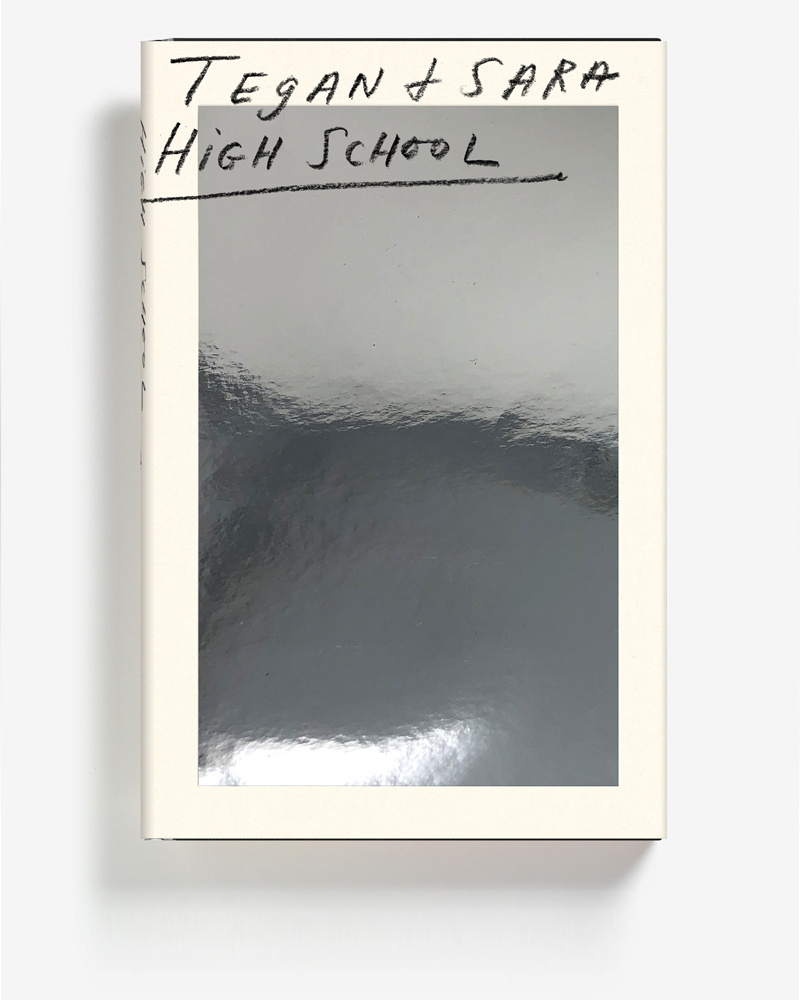 Tegan and Sara already had a television series in their sights, back in 2019, when High School was released. "Sara's going to cringe — I'm sort of joking — but I think we're visionaries," Tegan says.
The musical duo have come to terms with the amount of unsolicited advice they've received from men, including their own cousin, to do with the ways in which their music could be "less simple." While, for Tegan, it was water off a duck's back, Sara internalized the barrage of criticism from men. "Why — after eight studio albums, a million records sold, a handful of awards — had she believed them on some level?"
While researching old keepsakes for the memoir, Sara had some sort of epiphany about the way she was torn down rather than built up, when she needed it most. "I was like, oh shit, we were good – fuck these motherfuckers, why did I adopt this narrative?" She explains, "I believed that we were not good because a few people said we weren't good, and that was how I felt for 21 years."
The pair have come a long way since their earliest songs. However, while researching their own things for the memoir, the twins rediscovered cassettes that featured their oldest music. Tegan "loved them right away. She was drawn to their rawness and melodrama, yes, but also their worldliness." According to Tegan, to GQ, "I could sit and write 20 more songs that I'm not going to love more than these ones…the second I started listening, I was laughing: 'These are the best melodies!'"
Sara, on the other hand, wasn't particularly interested in them. "What was their value? Were they just teen-girl diary musings?" That changed when the twins discovered VHS-tape footage of a battle-of-the-bands contest they won in 1998, while researching for the book at the local library. The twins watched themselves close the set with the song "Just me," which was "a declaration about staying true to yourself that you can only write as a teenager." Suddenly, Sara started crying. "It seemed so crushingly sincere, and instead of feeling cynical, I just let myself be okay with the message and not see it through my old eyes."
The Series
The series adaptation of High School is about journeying to self-discovery alongside a twin that's experience is so closely entwined with your own. Tegan and Sara said, about the launch of the series, "We are incredibly excited to be working with Lauren, Ryan, and the fantastic IMDb TV team to bring 'High School' to life and apologize in advance to our mother for forcing her to relive this period of time with us again. We've made casting suggestions on her behalf to the incomparable Clea DuVall and our wonderful partners at Plan B."
Clea DuVall will write and direct some episodes, including the pilot, as well as performing her role as executive producer. She commented, "I am grateful to Plan B, Amazon Studios and IMDb TV for their partnership in bringing Tegan and Sara's beautiful and complex memoir to life."
The post Tegan and Sara's Memoir 'High School' to Become a Series appeared first on AfterEllen.