We all need a bit more art in our life and what's better than art made by lesbian and bisexual women, including AfterEllen's own Kacie Moon?! These five artists use different artistic mediums to explore themes that include womanhood, lesbianism, gazes, performance, lesbian history, intimacy, eroticism and politics. They're all on Instagram, so you can check them out and hopefully flick them a follow!
1. Roxana Halls
Roxana Halls' (@roxanahallsartist) paintings are a matter of performance. It's very fitting that twenty years ago she "walked into a disused theatre — now a bingo hall — in Streatham, south west London, and asked if they had a space in which she could make her studio," because, since then, she's painted many entertainers, including Horse McDonald's portrait for the Scottish National Portrait Gallery.
Halls' paintings are entertaining in their own right. Even when Halls isn't painting performers like Horse McDonald, she's painting theatrical female characters who tell a story, amidst a detailed, thought-provoking, action-packed backdrop. Hall admits she has a theme of "women laughing while fleeing traps" in her art. We're here for it. Especially if they're taking their cat with them.
Halls gave a salute to healthcare workers during the COVID-19 pandemic by contributing to the Healthcare Heroes collection: "It was a huge pleasure to see all of the portraits in the collection and to write about a select few as well as my own portrait of Katie Tomkins for the project."
In her 'Unknown Women' series, Halls explores concealment of sexual orientation. "In literal terms, I'm concealing the identity of the female protagonist. In a metaphorical sense, these images may have something to do with the various ways in which people conceal certain aspects of their identities. For example, the extent to which someone might not wish to disclose their sexuality, their secrets or information about their past, yet might leave clues for those who desire to uncover them."
2. Sarah-Joy Ford
Sarah-Joy Ford (@sarahjoy.ford) archives lesbian history and culture though the art of quilting. Ford explains that she has been "led on all kinds of adventures in the search for archival fragments" to inspire her art because, unlike the USA, there's no dedicated Lesbian Archive available in the UK.
Whether it be The Woman's Library or "community focused museums" like Glasgow Women's Library, Ford has been a diligent treasure hunter when it comes to the rare information on historical lesbians. In fact, Ford spent her PhD set on the task, even going "into the homes and email inboxes of women who created — and still are creating — lesbian history, including Phyllis Christopher, Karen Fisch, Annie Sprinkle and Susie Bright."
Ford is an advocate for quilting. She explains, "Quilting gives me a thrifty strategy for approaching this archive; gathering fragments, re-arranging with tender inquisitiveness, and forming a new arrangement that might offer a different way of knowing the familiar." Ford celebrates the political, feminist history of quilting, "Quilts have long been a powerful tool for women's expression; a visual language within the home as well as creating networks of female connection through friendship quilts, quilting bees and even through public politics – such as the anti-slavery and temperance movements in the USA."
3. Nienke S. (Because of My Love For Women)
Nienke S. is the Amsterdam-based lesbian artist behind Because of My Love For Women (@becauseofmyloveforwomen), which is described as an "ongoing series of diary drawings." My Love For Women's website explains the concept and inspiration behind this series: "what started out as a process to overcome heartbreak, soon became an intimate diary of erotic drawings – sometimes based on fantasies, sometimes on real life experiences – where the beauty of sensual love between women is celebrated."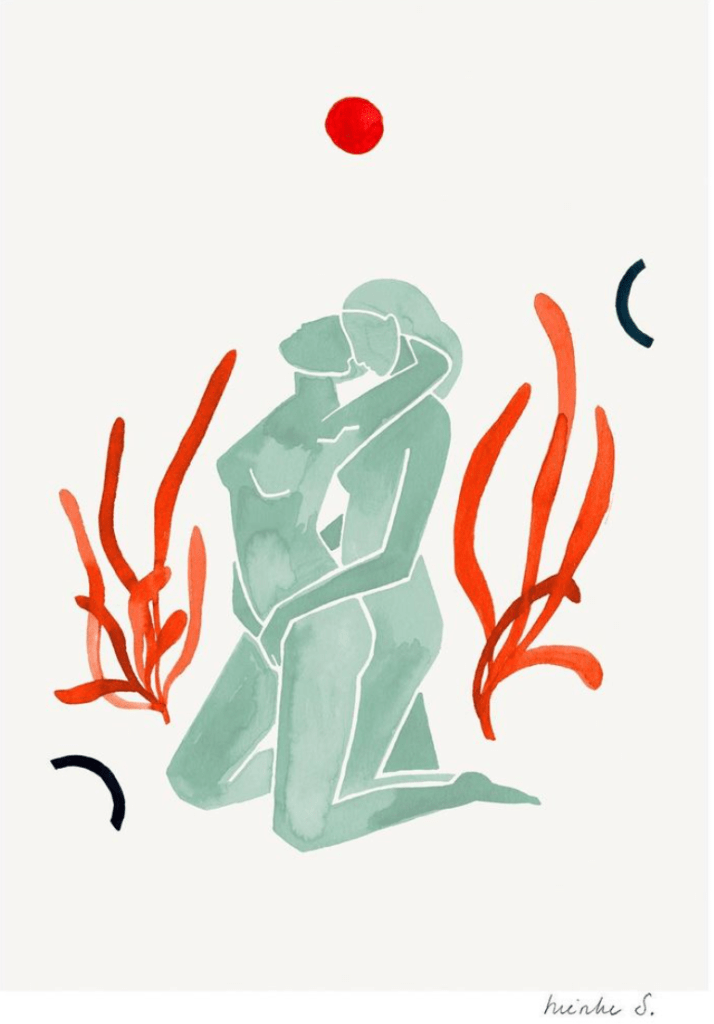 The minimalist drawings are jam-packed with intimate sensuality. Nienke offers her drawings on a bunch of different mediums, including calendars, cards and prints.
4. JEB (Joan E. Biren)
JEB (@jebmedia) is an iconic lesbian photographer-filmmaker, a trailblazing artist who self-published the first photography anthology depicting lesbians. Eye to Eye: Portraits of Lesbians was originally published in 1979 but, recently, Anthology Editions reissued it!
JEB writes, accompanying the photograph she made of Audre Lorde in 1987, "I feel the foremothers smiling today and reminding us: "It is not our differences that divide us. It is our inability to recognize, accept, and celebrate those differences," which is from Lorde's Sister Outsider: Essays and Speeches.
JEB has been documenting lesbian action in political movements from the forefront. In the caption attached to the image below, she writes "In 1980, when I photographed these marchers in San Francisco, the message was the same as the one we need today. We must unite to end violence against Black, Indigenous and People of Color. Minneapolis's police department has been known for racism for decades. Two local groups are working prevent any future funding for police and, instead, to use the money for community-led health and safety strategies and to end violence on community members. Now is the time to support their efforts to reduce investment in police and build resources that create real safety."
Captioning the below image, also pertinent today, JEB writes: "I made this image in 1980 at an anti-nuclear demonstration not long after the meltdown at Three Mile Island. So many lies have been told to cover up the crimes of the corporate state. Our awareness of it and the boldness of the lies may be increased in the present, but this is not new. Question Authority is a slogan that was embraced by my generation initially during the years of the Vietnam War and the Nixon impeachment. It would serve us well today because questioning authority is the only way to follow your own moral compass. That's what we need do if we want to change the direction of this country. Hats off to all the brave whistleblowers and inspectors general who are being fired for telling the truth when the "authorities" in both the public and private sectors are determined to hide it from us. Let's all try to be that courageous in standing up for what we know to be true."
5. Jenna Gribbon
Jenna Gribbon (@jennagribbon) makes art that depicts intimacy between women as lovers and women as friends. Gribbon's art is a treasure trove to the perceptive eye. Gribbon's partner, Mackenzie – musician Torres – is the muse for many of Gribbon's artworks, which often involve themes of voyeurism, intimacy, male gaze, sex, the home, private vs. public, and seeing and being seen.
Jenna Gribbon makes lesbian hands the focal point in a few of her paintings, suggesting the eroticism, intimacy and/or homophobic resistance that the lesbian hand in art usually represents.
The post 5 Sapphic Artists to Check Out on Instagram Right Now! appeared first on Afterellen.